25 Watts -
Kings Of

Merch!

25 Watts - The band merch one stop shop for screen printing and graphic design. We have over 30 years experience working in the merch industry printing and designing for some of the biggest and smallest tours ever to visit these shores.

Before we struck out on our own we worked in the concert and entertainment world for decades.

We've provided designs and printed gear for for the likes of Rollins Band, the Simpsons, Radio Birdman, the Church, Guns N Roses, South Park, Hanson, Kylie Minogue, yes, Kylie Minogue, Run DMC, Bon Jovi, Heaven and Hell, Iggy Pop, Ween, Neil Diamond (several times!), ACDC, Tame Impala, Crosby, Stills and Nash, Ren and Stimpy, U2, The Violent Femmes, Public Enemy, The Stray Cats, Motorhead, Beavis and Butthead, Chris Brown, De La Soul, Bluebottle Kiss, Sonic Youth, Dolly, Died Pretty, the Scientists, Poison, Mogwai, The Choir Boys, Pete Wells Band, the Wiggles, Cat Power, Jebediah, Cut Copy, Looney Tunes, Nancy Vandall, the Sex Pistols, Nick Lowe, Jeff Beck, the Rolling Stones, the Ramones, Blondie, Cypress Hill, NBL, Low, Sadistik Execution, the Johhnys, Deniz Tek, Mens Gallery, the Sunnyboys, the Cramps, Pulley, and even the 2 Live Crew, plus thousands of bands we can't even remember! Thirty years in rock merchandising, the mind begins to get a little dim.

The point we trying to make here is no matter who you are or what type of music your band plays, we can design and or print your merch line to a level of perfection that is unparalleled in the concert merch game. Our favourite shirt brands are Gildan and AS Colour. We print in our water based discharge base ink to give a finish that is both unbelievably vivid and has the softest feel available.

We'll print shirt runs of 25 upwards with a time frame of 5 working days although we've been known to turn around print runs while the band is still on stage.

Send us your artwork in a usable format (PDF or hi res Jpeg) and please, and we mean this, No Microsoft Word Art!

We can give sensible advice on artwork and printing based on our many years of experience, and will fit any budget.

Drop us a line for information, war stories or a quote at info@25wattsprint.com or call during business hours on 02 4628 5808
This
Just In...
News Update - Soon Come!
Thanks from the Team at the Watts!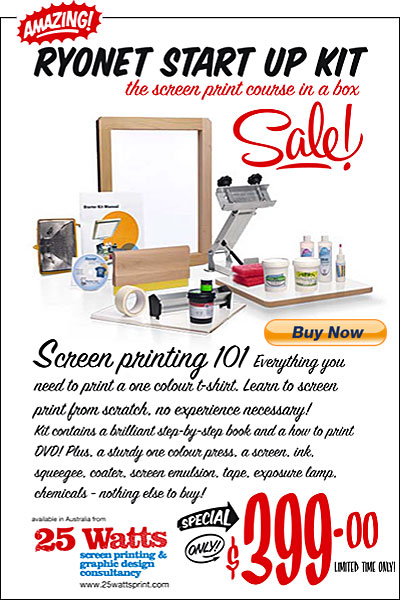 Visit Our Store To Buy Direct
Welcome to the 25 Watts Web Store, bringing Ryonet's ever dependable USA built screen printing products to Australasia for the very first time.
Ryonet develops screen printing products aimed at the beginner, home hobbyist and small industry. Providing dependable high quality equipment, supplies and ink at a more than reasonable price, Ryonet have taken the USA by storm.
25 Watts is proud to represent the Ryonet Corporation in Australia, New Zealand and Fiji and carry on that tradition here in the South Pacific.
Check out our Web Store for the Ryonet products we currently stock. We have begun with Screen printing supplies including presses, inks and accessories. We will expand this range in the future to include graphic design supplies and equipment to compliment our current range in stock.
Silver Press
Table Top Printing Presses
Silver Press table top printing presses are ideal for the small print shop and home hobbyist. Available in a range from the simple 2 colour one plattern model, all the way up to the six colour carousel. These presses are produced to high quality standards at a fraction of the cost of their competition. Table top presses are very convenient as they do not take up a lot of room and can be easily moved, stored and transported.
We are importing 2 of the most popular kits from the Ryonet range, both of them addressing different levels of expertise and budget and both extraordinary value for money.
Screen Printing
Start Up

Kit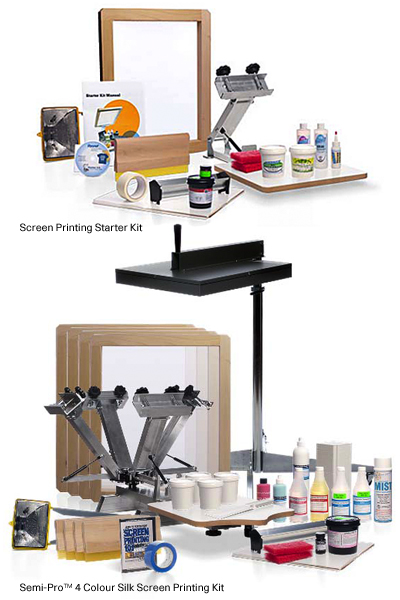 At entry level we have the Ryonet Start up kit which has everything you need to get going and print one colour designs on t-shirts and learn a whole lot about the process along the way. This Kit includes the one colour version of the Silver Press table top carousel and features a 40.5 x 40.5 cm platern and a 40 x 50 cm wooden screen. You get everything else you need to make a screen and print a design including all chemicals and ink. Unbeatable value at around $500.00 + gst. 
Semi-Pro
4 Colour

Complete Kit

Next up is the Euro Semi Pro Kit which is a four colour kit and can be easily utilised to kick off a small business. Again unbeatable value - I have never seen anything that comes close to the value and quality of this kit anywhere! The kit includes a Silver Press 4 colour carousel, an 1800 watt Econoflash dryer (specially wired to 240 volts for the Australian market) an entry level exposure unit again wired for Australian use, 4 wooden screens, all inks, squeegees and chemicals you'll need to start printing. Nothing more to buy! There is even a How to Screen print DVD included for reference! We expect these will be retail here for around $3,150.00 + gst.

Upgrade kits or add-ons are available for these presses allowing options such as micro registration and side clamping.
Ryonet
Black Body

Conveyer Dryers

Due to a deficit in the availability of decent affordable conveyer dryers in Australia, we supply several of Ryonet's popular Black Body conveyer dryers. The entry level Little Buddy is the perfect dryer for a start up business, running at 3000 watts and requiring a 15 amp 240 volt power supply, these dryers arrive ready to plug in and go.
Little Buddy
Black Body Conveyer Dryer
The Ryonet Black Body Little Buddy is an Infra Red dryer with a huge 46 x 61 cm element, perfect for a small print shop and easily able to cure plastisol or water based inks. There is an optional add-on temperature control available, which we will also be stocking.
We are really excited to include the Little Buddy's big brother, the 6400 watt Big Buddy III. This is a serious 8 foot dryer, once again running on Australian current 240 volts, and drawing 27 amps. If you are looking for a new 8 foot conveyor dryer that can keep up with production in a manual screen printing shop, the Big Buddy III Conveyor is the solution.
Big Buddy III
Black Body Conveyer Dryer
The Black Body Big Buddy III conveyer dryer features Auto Plateau Technology - two finely tuned curing zones with custom coiled Infrared Black Body elements that guarantee a heat profile "plateau". Quickly getting the shirt to curing temperature and then holding it there. BBC elements are also designed so the heat from belt edge-to-edge is nearly identical. Load your shirt any which way. Unlike the competition, where the middle of the belt is hotter than the edges. Auto-Plateau technology also makes curing water-based inks easier without air flow. No longer is it necessary to run shirts through twice.
Black Body dryers and Silver Press carousels are simple, dependable and very solidly built. There is nothing that comes close to the standard and reliability of this equipment that is available locally. Ryonet's equipment all comes with a more than reasonable price tag attached, putting screen printing back in the hands of the start up printer and hobbyist.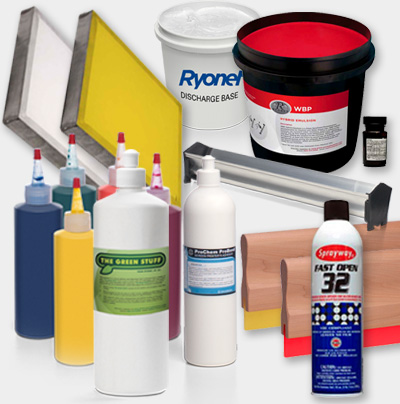 Screen Printing
Consumables
In a bid to service our client base better, we also stock a wide range of Ryonet's eco friendly screen prepping chemicals such as water based emulsion, cleaning products, water based pallet adhesive, screen opener and the amazing new 'Green Stuff' dehazer and degreaser.
Other
Screen Printing

Essentials

25 Watts is stocking Ryonet aluminium screens, squeegees and many other products that have been unavailable to Australian (and New Zealand) screen printers.

Visit our online store to order directly and read useful information and tips for the screen printing community at large. Stay tuned and drop us a line if you would like to know more or would like to order a Silver Press carousel or Black Body conveyer dryer. Stock is limited, so get in quick and place your order today.
Ryonet
Discharge Ink

Solutions

The solution to printing soft hand on dark fabric is now available in Australia. Imagine being able to print water based ink on a black T-shirt with incredible colour intensity.

Ryonet Discharge Ink doesn't sit on top of fabric the way Plastisol ink does, it actually dyes the cotton of the T-shirt so the print is right in the weave! The result is permanent, soft, colourfast & environmentally friendly. It has none of the heavy layered feel of the old Plastisol printing system.
Benefits of using
this superior ink

include: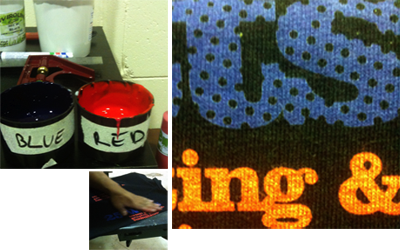 Phthalate free ink, perfect for hospitality and childrens wear uses.
A soft breathable print that is pleasant to wear.
The feel and look of a water base print on a black T-shirt!
Closely match Pantone colour references.
Screen life of 5 to 8 hours after mixing.
Heavy viscosity, doesn't seep through screen mesh.
Confidently use with higher mesh counts for finer detail and half tones.
Easy to mix, easy to print. Cleans up in water.
A natural alternative to Plastisol.
Possibly the best discharge ink system available anywhere!


(25 Watts Current Price List Available Below)
Download Our
PRICE LIST

& Safety Data Sheets Here
Discharge Inks

Demystified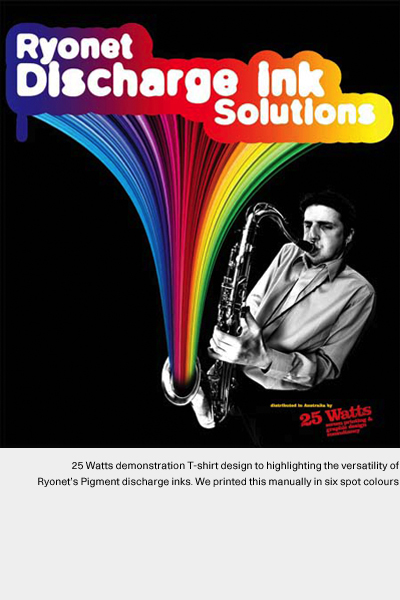 Printing with
Discharge Inks
25 Watts are proud to announce an exclusive dealership with Ryonet USA distributing Ryonet's Discharge ink range and Enviro Water based inks in Australia and New Zealand.
Ryonet's pigment discharge range is a superior ink solution for anybody wanting to get into printing pigment discharge on dark shirts. Ryonet's discharge ink is simple to use and produces excellent results with vibrant colours and a soft smooth feel on dark garments. An eco friendly substitute for plastisol. But what exactly is pigment discharge ink and how hard is it to use?
Discharge pigment printing works differently than plastisol ink. Simply put, an agent or activator is added to a water based colour mix which bleaches colour from the T-shirt allowing pigment in to essentially dye the weave. All you feel is the shirt itself, no nasty plastisol sand-paper like texture. Curing a pigment discharge printed shirt is a little different also. Being a water based ink the pigment is only released when the water it is carried in is evaporated in a tunnel dryer. The effect is quite startling when witnessed for the first time. We used an infra red tunnel dryer with great results but your regular tunnel dryer will discharge fine.
On the press the printed shirt looks dull and some colours appear almost invisible. On the other side of the of the dryer it is a different story altogether. The design is as vibrant as a plastisol print but actually sits right into the weave of the shirt!
There seems to be a stigma attached to printing discharge - that it is tricky to prepare and difficult to use.
Lets look at a few pigment discharge misconceptions and address them.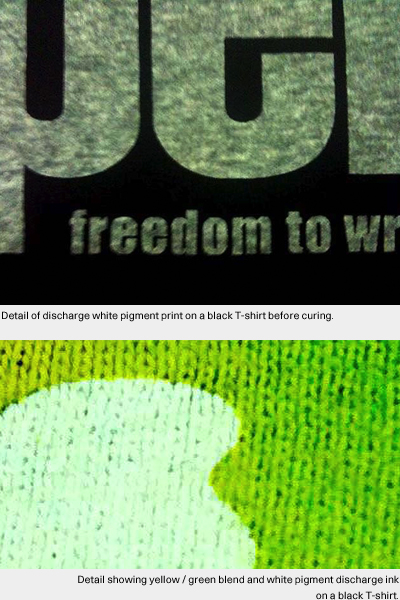 Q.
Do I need artwork prepared in a different manner?
No, your art should be produced as normal. Separate and output your design on film as if you were printing a plastisol job. Butt registration separations are perfect for this ink but you can also blend and mix tones as you normally would with no problems in the production stage.
Q.
How do I prepare a screen for use with pigment discharge?
The activator agent used in pigment discharge is tough on emulsion and leads to screen break down. A screen coated in standard emulsion for use with plastisol ink will only last around 20 minutes when printing with discharge ink. Applying emulsion hardener is an easy way to strengthen your screens for discharge printing without having to change your usual emulsion brand. Hardener is wiped over both sides of the a finished screen and allowed to dry. Once set, the screen is still reclaimable and can be used for plastisol or water based printing. We found using an emulsion designed for use with water based inks held up well and was considerably cheaper than a discharge specific emulsion. Ryonet's discharge ink has the viscosity of plastisol and is very easy to print with compared with regular old fashioned watery discharge inks. We found an ideal mesh count to print through was 77t but don't be afraid to use a finer mesh to retain detail. This ink goes through the screen with little effort even when printing manually.

Q.
Will the T-shirt brand affect the end print result?
When choosing a shirt for a discharge ink production run, It is a good idea to check the garment is made of natural fibre and is preferably 100% cotton. Mixes of polyester and cotton produce a dull result and are not recommended. Best results are achieved with 100% cotton garments dyed with a reactive dye. Recommended brands are Gildan and American Apparel. A word of warning, some cheaper brands or low end shirts are re dyed black over a colour that didn't sell. These shirts will often only strip back to the first colour when discharge printing, producing a disappointing result. We notice Gildan have a chart on their web-site advising which colours discharge well and which colours don't. You can view this chart at www.gildan.com We are testing these colours currently and will report back in the next couple of weeks. As a rule of thumb though, black shirts discharge excellently, and they are the shirts we print on 90% of the time!
Q.
What do I need to mix a colour in pigment discharge?
Mixing a PMS colour in pigment discharge isn't that much different than mixing a plastisol ink to a Pantone recipe. You will need a good set of digital scales, a Pantone book and your discharge ink ingredients. Usually a discharge clear base, your pigments and discharge activator. A good tip is to mix your colour pigment and clear base first adding activator at the end to achieve a strong colour mix and avoid the lumpiness caused by adding the agent too early. Its a bit like mixing gravy, adding the flour carefully and slowly will avoid lumps! Remember to mix your inks in a well ventilated area. Ryonet's range of discharge ink is a Formaldehyde based system requiring a little care when mixing. Formaldehyde is a skin irritant and is an ingredient in the discharge agent / activator. It is stable once mixed in with the base and pigment.
Q.
What are the problems in printing with pigment discharge?
Mixing an exact PMS colour can be a little difficult at first as your final printed colour is dependent on the fabric in your garment. Adding the right amount activator is crucial. Too little wont discharge your fabric properly and too much will make your shirts smell like rotten eggs. A good idea is to have a spare T-shirt handy to dab your mixed colours onto and test for colour accuracy by running a paint stripper gun over the swatch. This way you can accurately check how close you are getting to your desired Pantone colour. Add a bit more pigment to the mix to intensify your colour. The heat gun will activate the agent and give you an idea of how the colour will look on a shirt once production begins. We made a little screen to print a swatch onto our test shirt which gave a more accurate result than dabbing ink on with an palate knife!
Ryonet's pigment discharge ink is a dream to use in production. With its heavy viscosity, the ink sits nicely on the screen and doesn't dry in as quickly as regular water base ink. For longer production runs remember to flood back over your screen and keep a can of screen opener handy. One of the nice things we found with Ryonet's discharge ink was the less ink we put down, the sharper the end result was. When printing through a 77t mesh, one hit was all that was required. This of course makes production incredibly fast. With no under base the set up time is cut down considerably and more importantly, there is no need for a flash unit saving curing time on the carousel and your energy bill.
Q.
I heard shirts needed to be washed after production?
Again, another discharge printing urban myth. With a little experience your activator mix should be around 5%, the strong sulphur odour associated with discharge ink is caused by being too heavy handed in the mix department. Personally we haven't ever encountered this problem and have been able to fold and box our shirts as normal with no lingering egg pong!
Q.
Why is pigment discharge ink suddenly having a resurgence?
Discharge Ink is a fantastic option for printers looking for an eco-friendly alternative to plastisol. Printing with pigment discharge possesses many production benefits and offers a superior result and feel compared to the existing Plastisol method of printing.
A major reason for the surge in alternative or green printing products has been the recent backlash against inks containing Phthalates. This is a chemical additive added to hundreds of manufactured items including Plastisol inks that give PVC its flexibility. Phthalates are now being phased out of many products in the United States, Canada, and Europe due to health concerns. In America under new laws first implemented in 2009, children's clothing can no longer legally be printed with plastisol. In January 2010, the Australian Consumer Affairs Minister announced a ban on items containing more than one per cent Diethylhexyl phthalate (DEHP) because of international research linking it to reproductive difficulties.
Some print shops both here in Australia and internationally have stopped using plastisol entirely, using this stance as a positive selling point.
These shops print lighter coloured shirts with water based inks and black or dark coloured shirts with water based discharge inks.
Our latest
Discharge Ink

Designs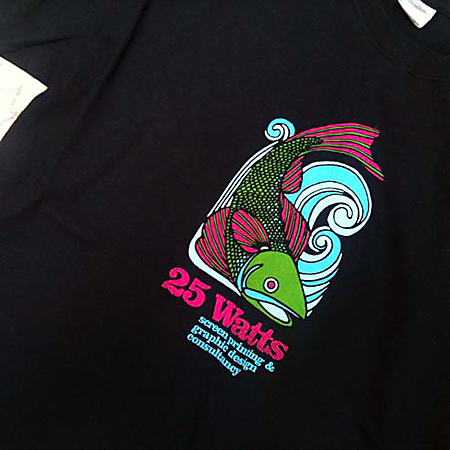 25 Watts Promo Shirt
From Sydney Visual Impact Expo
4 colour water based discharge print.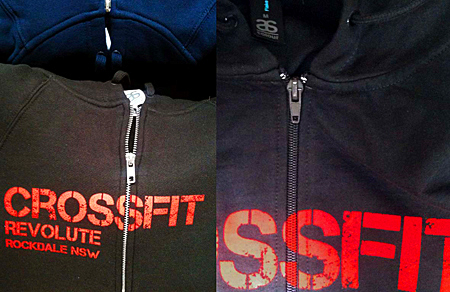 AS Col Hoods
with print over Zip!
Two colour water based discharge print.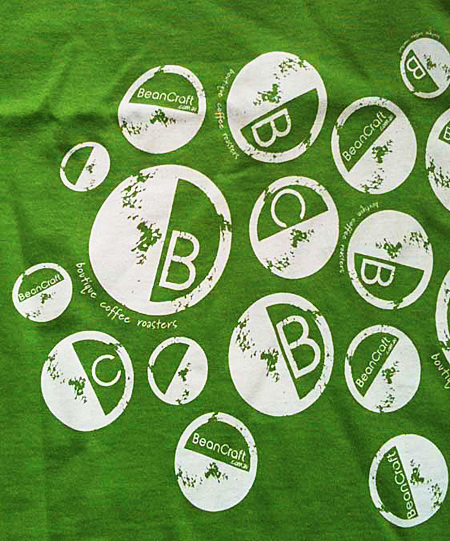 Beancraft
Coffee Roasters
One colour water based discharge print.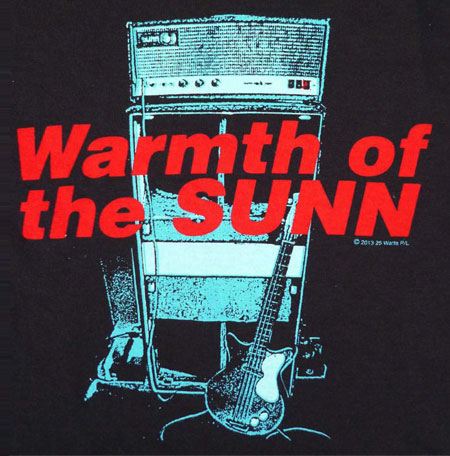 Sunn Amp
Tribute Shirt
Designed and printed by the good folks at the Watts.
Shirt available on the 25 Watts WebStore - Get one!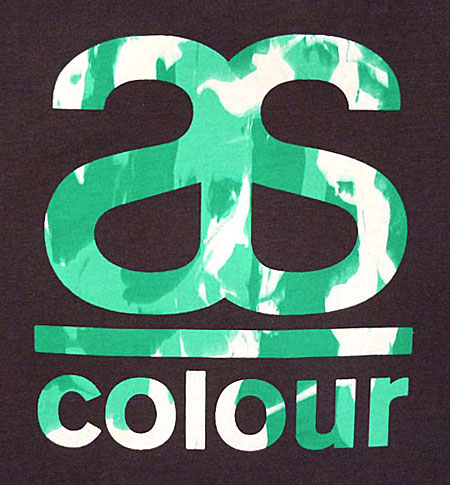 AS Colour Logo
On Charcoal AS Shirt
A specialty 3 colour discharge print invented and printed by Glenn
who calls this the Granite Effect.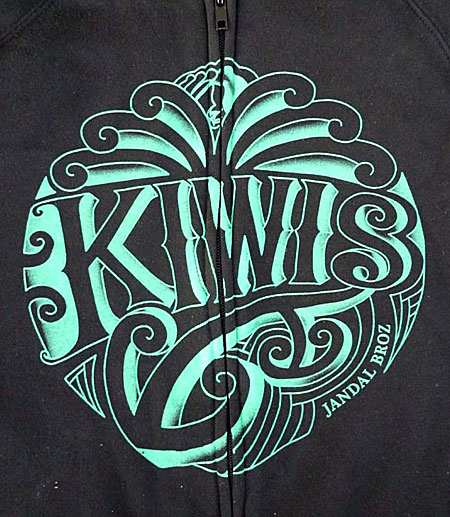 Maori Design
In Paua Green
Printed front over Black Gildan Zip Hood for Jandal Broz.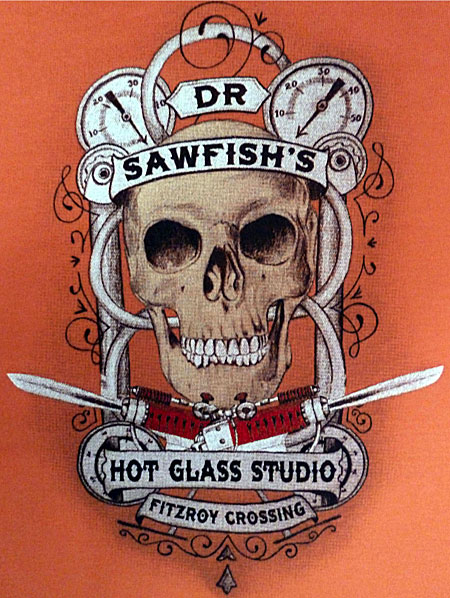 Dr Sawfish's
Glass Studios
Printed discharge pigment on various colour AS shirts.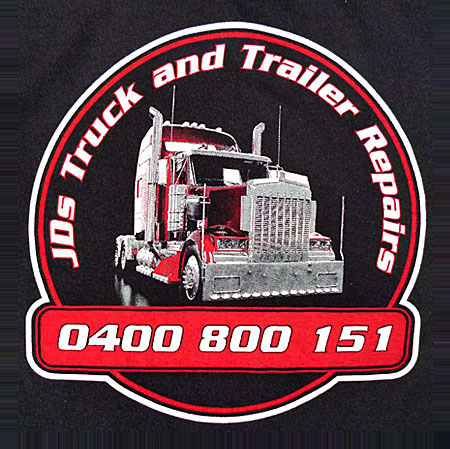 JD's Truck & Trailer Repairs
T-Shirt Design
Sepped by Mark, printed by Glenn in Ryonet's pigment discharge ink
on black Gildan Tees.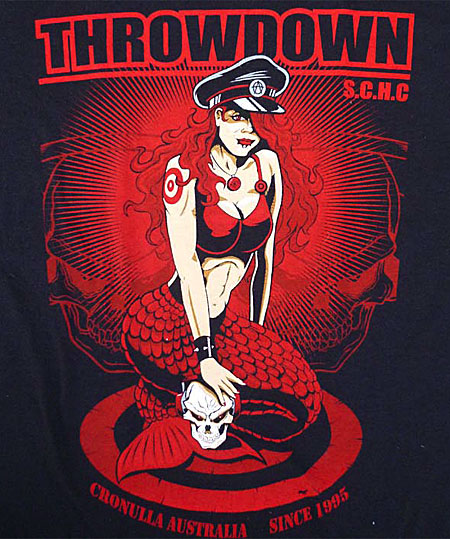 Throwdown
Mermaid Tour Shirt
Printed Discharge on Gildan tees in six colours!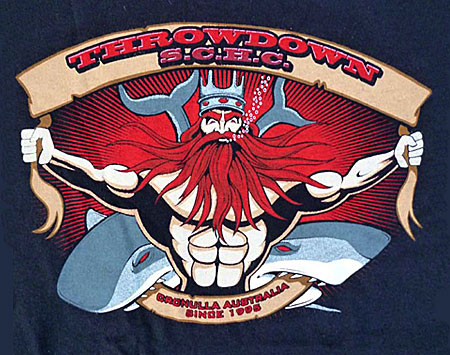 Hardcore Veterans Throwdown's
Neptune Tour Design
Printed 6 colours in disharge pigment front of black Gildan pullover.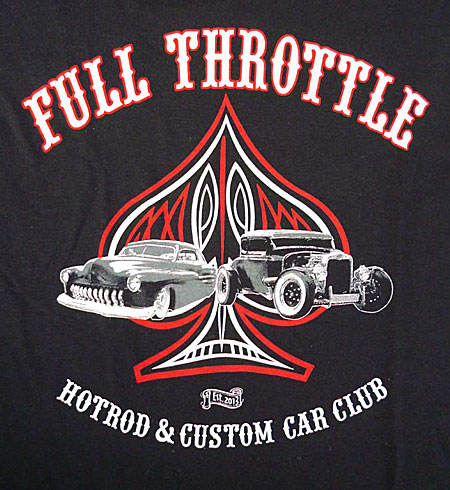 Full Throttle Hot Rod Club
Members Shirt
Printed once again in pigment discharge on Gildan tees and hoodies.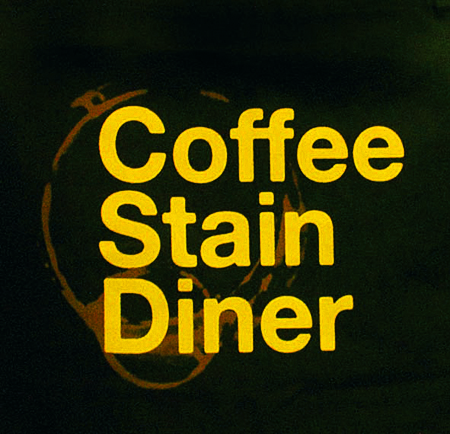 Coffee Stain Diner
T-Shirt Artwork
Two colour water based discharge print.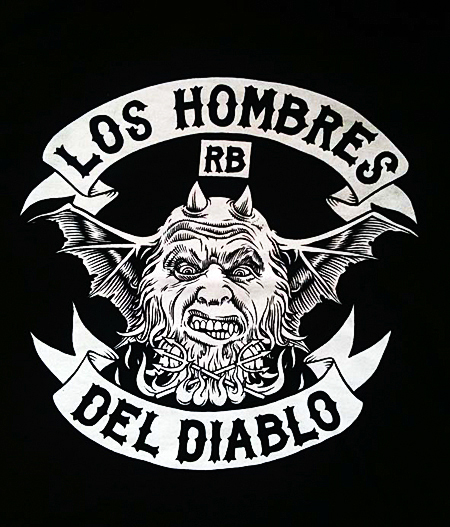 Los Hombres
T-Shirt Artwork
One colour water based discharge print.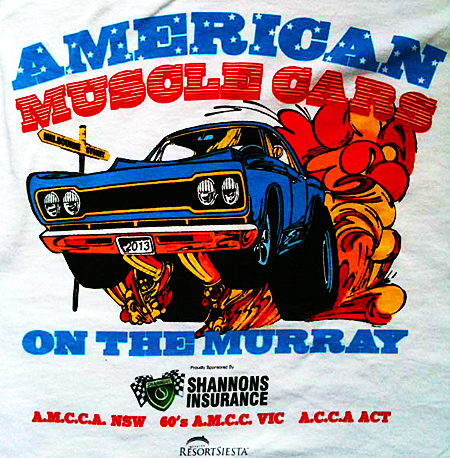 American Muscle Car Club
Murray River Run Shirt
Four colour water based discharge print.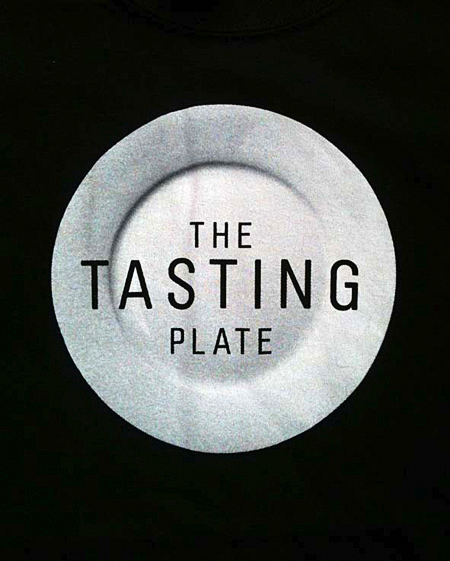 Westfield
Tasting Plate
One colour water based discharge print.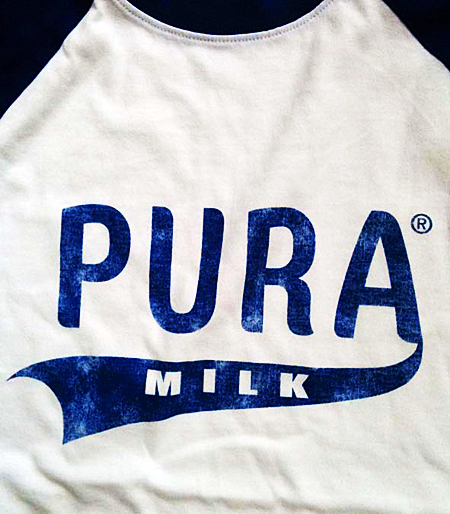 Pura Milk
Retro Baseball T-Shirt Design
Two colour water based discharge print.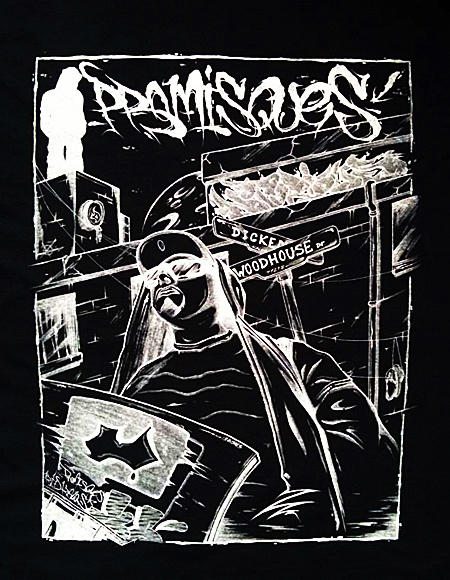 Promisques
T-Shirt Artwork
One colour water based discharge print.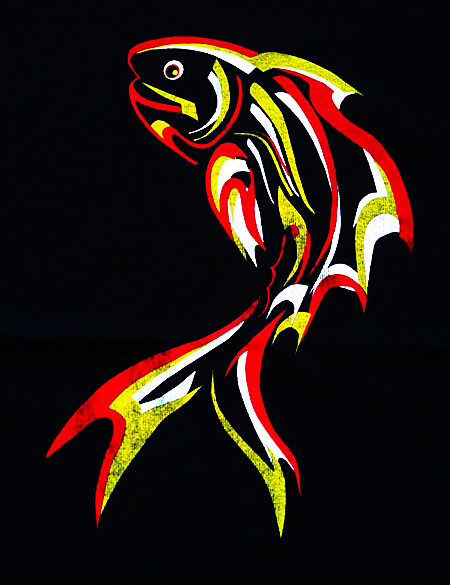 Mr. Fish (Retro Style) Logo
T-Shirt Artwork
Three colour water based discharge print.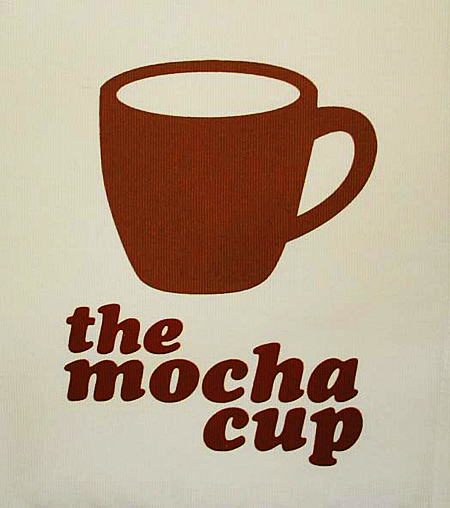 The Mocha Cup Cafe
T-Shirt Artwork
One colour water based discharge print.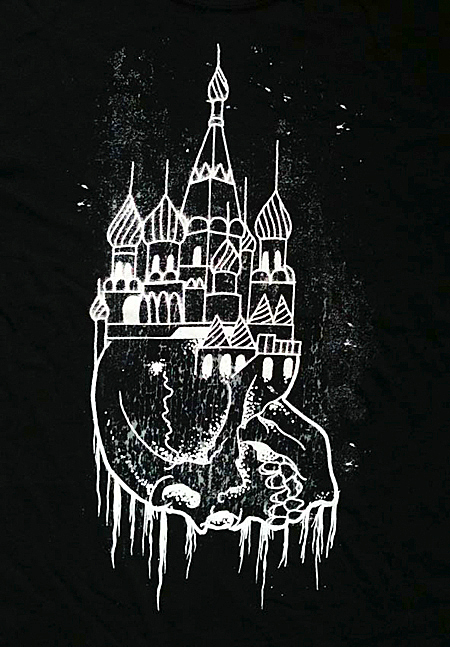 Spider Death Tattoo Expo
T-Shirt Artwork
One colour water based discharge print.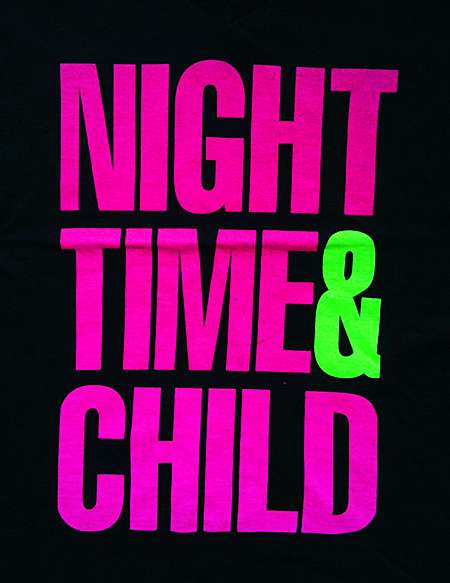 Danny Nighttime
T-Shirt Artwork
Two colour water based discharge print.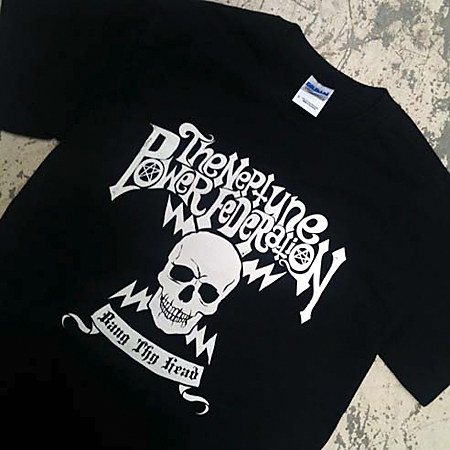 Neptune Power Federation
T-Shirt Artwork for album release
One colour water based discharge print.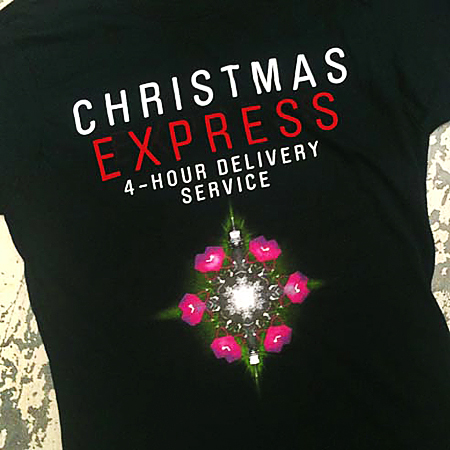 Westfield Department Stores
Xmas T-Shirt Artwork
6 colour water based discharge print.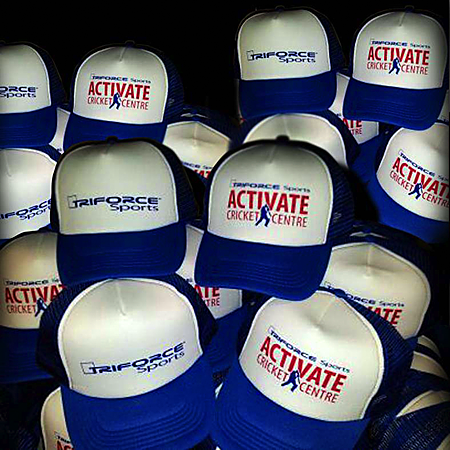 Cricket Trucker Hats
Printed with our new Livingston Hat Champ
2 colour water based discharge print.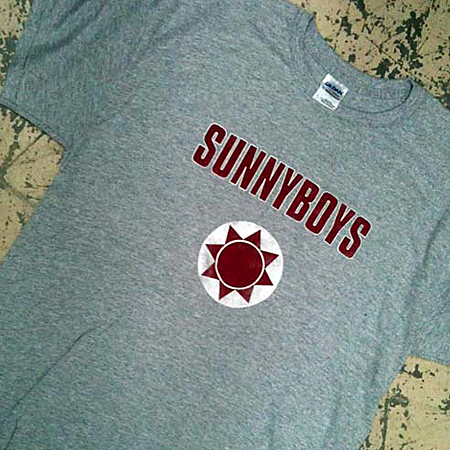 Sunnyboys Star Logo
T-Shirt Artwork
3 colour water based discharge print.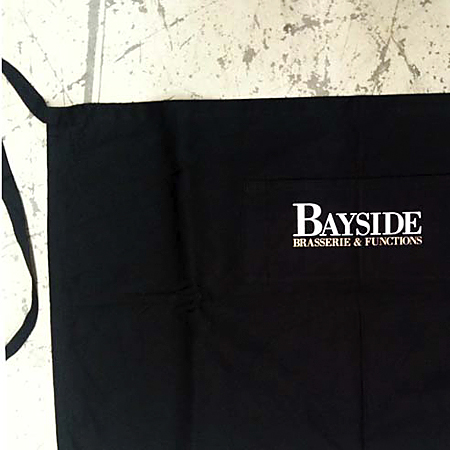 Bayside Brasserie
Apron Artwork
Water based pigment discharge 2 colours on black cotton drill.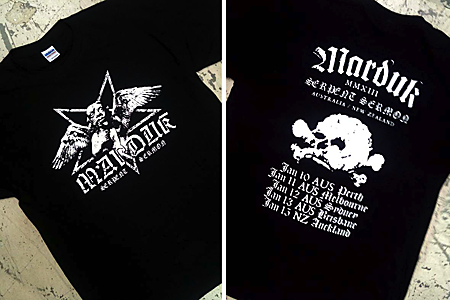 Marduk
Tour T-shirt Design
We were able to print a top up order of these in under 3 hours
while the show was in progress.
Delivered in time for the end of the bands Sydney show.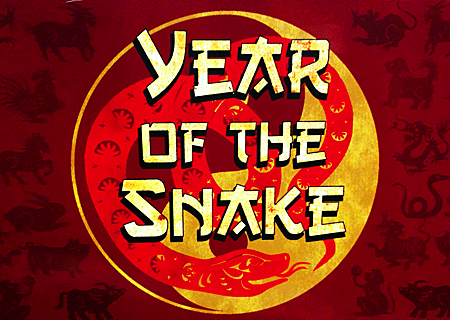 Year Of The Snake
Gaming Panel Design
On laminated board.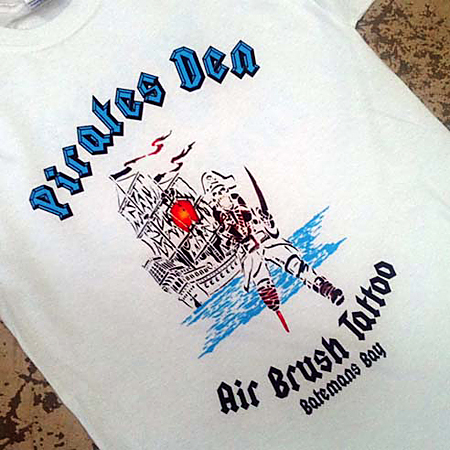 Pirate's Den - Airbrush Tattoo
T-Shirt Artwork
4 colour water based ink print on white T-shirt.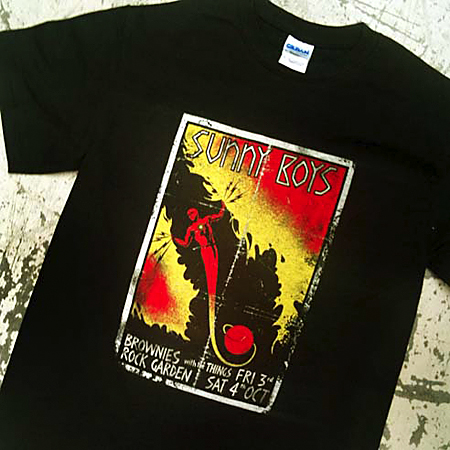 Sunnyboys Poster
T-Shirt Artwork
4 colour water based pigment discharge print on black T-Shirt.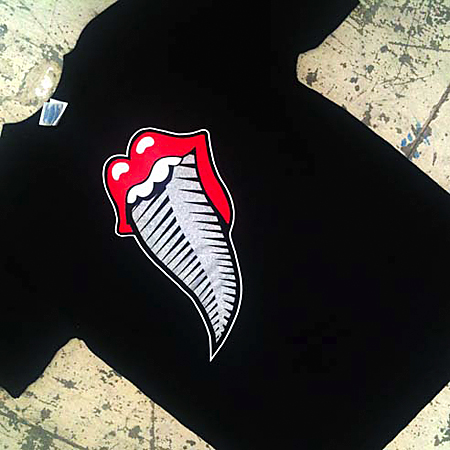 Rolling Stones Bigger Bang Tour
T-Shirt Art for NZ Tour 2006
4 colour plastisol print. One from the archives!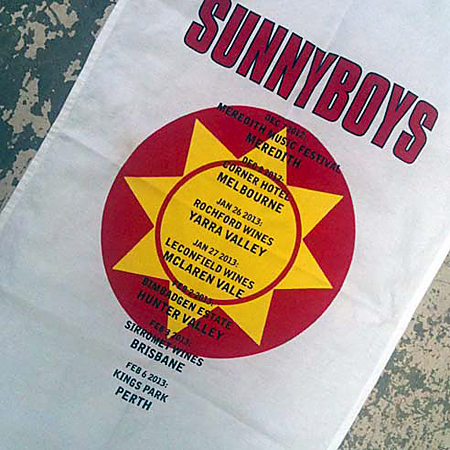 Sunnyboys Tour 2012/13
Tea Towel Artwork
3 colour water based print on natural cotton.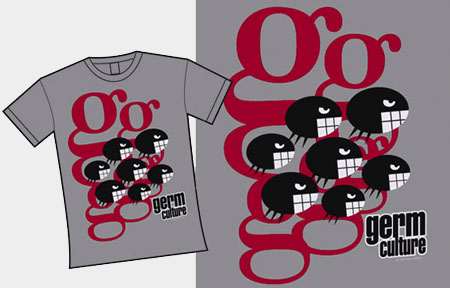 Germ Culture
T-Shirt Art for Clothing Label
3 colour water based print on grey cotton T-Shirt.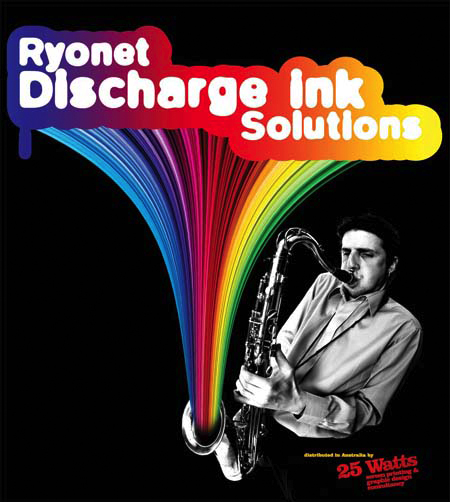 25 Watts Promo Shirt
Discharge Ink Test Print
25 Watts promotional 6 colour water based discharge print.
Contact Us

0451 225 735

We look forward to hearing from you!
Please submit your enquiries below, we will get back to you as soon as possible.
Screen Printing & Graphic Design Enquiries
HARDWARE & PRINTING INK ORDERS
PO BOX 7424
Mount Annan
NSW 2567
ABN 51154991081